This time we carried out an oil converting experiment from agricultural polyethylene, which was requested by our customer.
This agricultural polyethylene is actually EVA(Ethylene Vinyl Acetate). As for converting Ethylene, while the existing plants produce cracked oil with much wax included, our plant with catalyst succeeds in deriving wax-free oil as shown in the photo.
EVA contains hydroxy group so that it produces much water through oil conversion.
The result, as expected, shows that the bottom of the bottle is full of water.
We have not analyzed the component yet, but we predict to obtain a high proportion of naphtha (the light oil part).
We will try to convert various plastics and update the information here.
The result of analysis will come out in a few days.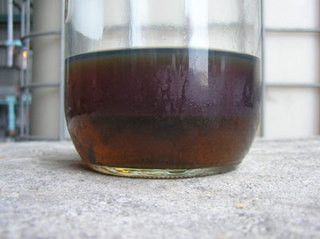 July 1st, 2011